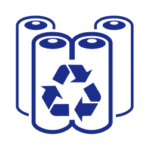 Waste battery collection service
We value our customers and the environment. As an organisation, we are obliged to provide a recycling service for the goods we produce and distribute. However, we go further than this basic requirement by offering customer site collections and battery recycling bins. We offer easy ways for customers to get their batteries recycled, we contribute to the Recycle-More scheme and are involved with Valpak for the collection of batteries for bigger businesses. We care about the environment and understand that there is still a long way to go to make it greener, which is why we are committed to increasing the number of batteries that are recycled each year. This document outlines the procedure for recycling your batteries.
Some portable batteries contain chemicals such as lead, mercury or cadmium. If batteries are thrown into a normal bin, they are likely to end up in landfill. Once buried, the batteries start to break down, and can leak some of these chemicals into the ground. This can cause soil and water pollution, which may be a health risk for humans and wildlife.
There are three ways to recycle your batteries:
TYPES OF BATTERIES ACCEPTED
Batteries accepted are listed on the side of the recycling box. Below is information in more detail.
1. Domestic Batteries
The batteries listed in the table below are all accepted in the 15kg recycling box.
| Battery Type | Description | Formats | Common Uses |
| --- | --- | --- | --- |
| | Small dry-cell batteries, sealed, non-rechargeable, Zinc Carbon batteries are labelled general purpose or heavy duty. | AA, AAA, D-cell, C-cell, 9-volt, button cells. | Camera, toys, watches, handheld electronics. |
| | Small dry-cell batteries, sealed, non-rechargeable. | AA, AAA, 9-volt, small-cylinder, button cells, custom sizes. | Watches, camera, hand held electronics, tyre pressure sensors, alarms, memory backup, remote car locks, pacemakers, high temp applications. |
| Lithium-ion (Rechargeable) | Small dry-cell batteries, sealed, rechargeable. | Custom sizes in hard plastic case, small-cylinder, button cells. | Mobile phones, laptops, power tools, video cameras, hand held electronics. |
Batteries with connecting wires NEED to be seperated from other batteries, and will be treated differently. For more information, contact us on recycling@upergy.com
2. Industrial batteries
Industrial batteries need to be treated separately. We can still collect these, as long as they are stored in a separate box. Lead is removed from batteries and then weighed. Some Professional Application batteries (AA) could be used in a consumer application, so these would be classed as domestic batteries.
3. Lead Acid Batteries
Lead acid batteries also need to be treated separately. Again, we can still collect these, as long as they are stored in a separate box. Lead based car batteries, VRLA batteries and Motorcycle batteries are recycled separately. (Lead acid batteries should not be mixed with any other type of batteries).
Collection of a 15kg battery box:
Please follow the instructions on the back of your box, and contact Valpak directly on 03450682572
Collection of a pallet box:
Once your bin is nearly full, you can make a collection request by emailing: recycling@upergy.com
Your email should include the following:
We recommend doing this before your pallet(s) is/are full as collection can take up to 7-10 working days after your request. A replacement container will be delivered at the same time as collection.
It may be useful to have the pallets in your stores/delivery area if applicable as it facilitates collections, especially if you do not have appropriate lifting devices.
Useful information:
Battery Producer Registration Number: BPRN00649