MEDICAL BATTERIES
30 years' experience in the design and supply of medical batteries
BESPOKE BATTERY PACKS FOR
Enix Power Solutions is an ISO 13485 approved battery pack manufacturer, making us well placed within the market to provide the highest quality power solutions for your medical devices. 
Based in the West Midlands, our Solihull production facility offers full traceability in line with ISO 13485 for your medical device, whilst our production facility in Ashford, Kent, offers in-house UN38.3 testing, accelerating your time to market. Enix Power Solutions also have long standing relationships with test houses in both Europe and Asia to fulfil your IEC 62133 test requirements.
Typically, a medical device is a product, such as a machine or instrument, that is intended for use in the prevention, diagnosis or treatment of medical conditions or diseases. ISO 13485 was intended to be used by companies who are involved in the design, manufacture and/or installation of medical devices, however may also be used by internal and external parties such as certification bodies to assist with auditing purposes.
Having satisfied the requirements for ISO 13485 in May 2019, Enix Power Solutions have been instrumental in the design and manufacture of both Primary and Rechargeable battery packs for electro-medical devices.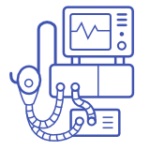 Backup battery packs are critical within a ventilator design and mostly required to power the ventilator during power outages and the transfer of patients around the hospital.
Most commonly 12V Sealed Lead Acid batteries and Lithium Thionyl Chloride (Li-SoCl2) cells and battery packs are used as the latter allows battery changes without the need of charging the cells.
Working closely with manufacturers such as SAFT, Tadiran and Yuasa, Enix Power Solutions offered key services to ventilator manufacturers and the NHS during the coronavirus (COVID-19) pandemic due to the huge surge in ventilator requirements.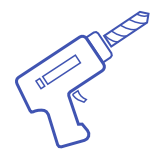 Wireless surgical power tools tend to be more compact and can provide the surgeon with a more controlled actuation which is pivotal during precise and delicate surgeries.
Typically requiring high power lithium-ion cells, surgical power tools must be designed with the surgeon's best interests at heart. A smaller and lighter device allows the surgeon to go about their work without suffering from fatigue. This is what makes lithium-ion so desirable, as their combination of high energy and power ensures a lightweight/sleek device.
High energy lithium metal oxide (LMO) batteries from Tadiran are also part of our portfolio. The benefit of using such cells allows the surgical tool manufacturers to design a much smaller, ergonomic device allowing surgeons to operate much more quickly and efficiently.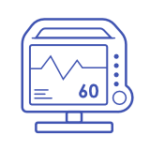 Within the medical industry, nothing is more important than making sure patients are well nursed and monitored throughout their treatment. Unforeseen circumstances can cause glitches in the monitoring of patients without any notice.
In order to combat this, most patient monitors are designed with an internal battery backup, ensuring uninterrupted patient monitoring regardless of the situation. The battery backup tends to become operational during power outages or preventing any disruption when moving patients around the hospital ensuring full coverage of their vitals.
Enix Power Solutions offer a variety of "off the shelf" battery solutions for patient monitoring whilst also offering a bespoke battery pack service.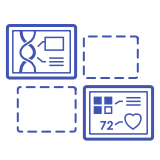 Portable diagnostic tools include, however not limited to:
These innovative diagnostic tools allow a health practitioner to undertake their roles outside of their general practice.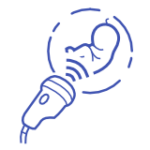 Portable ultrasound devices provide both flexibility and mobility for clinicians and image patients where they are in real-time, also allowing the clinician to obtain a high quality image without relying on a single machine ability.
Combining lithium-ion cells with intelligent smart monitoring, Enix Power Solutions can develop a custom battery solution that will allow clinicians to complete home visits without compromising the quality of their work – something that has become key since the coronavirus (COVID-19) pandemic as not all patients are able to make it to a hospital.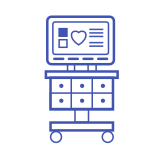 There are many different types of medication carts widely used within the medical industry.
As the name suggests, the medication cart is used to transport medications from one patient's room to another. These carts are also intended to be used as a mobile workstation and tend to include a mobile computer and lockable drawers allowing medical practitioners to swiftly prescribe and administer medicine.
With a similar purpose to the medication cart, an anaesthesia cart may only be used by personnel qualified to do so and specifically designed to hold anaesthetic medicine for use during surgery.
The simplest of its type, and used as a more general purpose cart to provide a mobile record database.
One of the most common medical carts, the crash cart was designed for use in emergencies. The typical crash cart is equipped with a variety of supplies that go beyond that of a standard medication cart.
Enix Power Solutions can assist in the design of your medical cart, providing various outputs ensuring more than one critical application has an uninterrupted power source.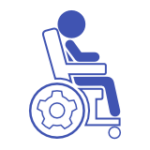 Most commonly mobility applications are dominated by Lead Acid batteries mainly due to their low cost and high weight acting as a ballast.
That said, more and more mobility manufacturers are moving to a more lightweight and versatile battery solution. Enix Power Solutions work with many UK based mobility scooter manufacturers, providing a longer life and less maintenance which in turn provides a more reliable battery solution.
Advantages of using Enix Power Solutions for your project:
Speak to a member of our OEM specialist team about your medical battery requirements