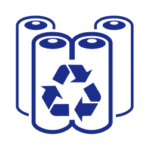 Our quality certificates and QSE commitments
Enix Power Solutions is certified ISO 9001:2015 and also obtained the environmental certification ISO 14001:2015 in March 2011. All of our departments (sales, production, logistics, etc.) follow several quality indicators. Our different actions are identified, tracked and checked as part of our plan for the continuous improvement of our quality management system. We check products at the end of the production run in our workshops and on our partners' production lines.
QUALITY MANAGEMENT SYSTEM
The drive for continual improvement of our quality management system is expressed through: 
Quality, safety and the reduction of our environmental impact do not come about by chance. They are the results of the directors' commitment and everyone's involvement.
OUR ENVIRONMENTAL COMMITMENTS