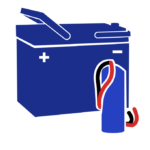 LITHIUM IRON
PHOSPHATE BATTERIES
Standard and custom LiFePO4 battery packs
Lithium Iron Phosphate batteries first appeared in the early 2000's and are increasingly used in robotics and energy storage. Lithium Iron Phosphate (LiFePO4) batteries have a nominal voltage of 3.2V and are an excellent solution for applications requiring a lightweight, high capacity battery with a long lifespan and stability at high temperatures.
Lithium Iron Phosphate is based on Lithium-Ion chemistry. One of the major advantages of LiFePO4 over other Lithium-Ion chemistries is its thermal and chemical stability, which greatly improves the safety of the battery.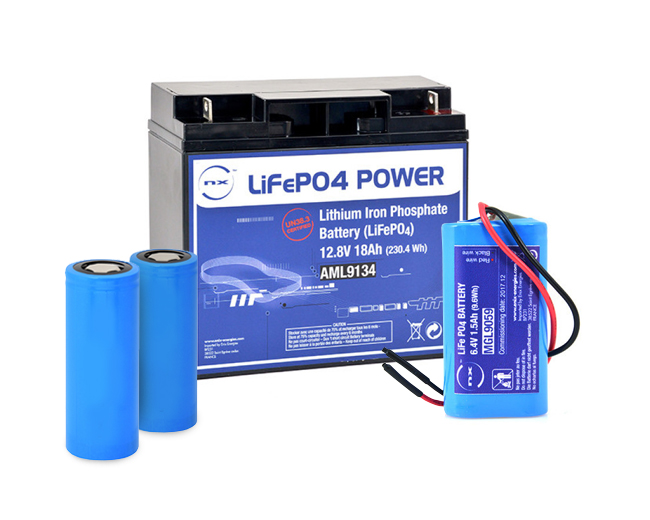 LITHIUM IRON PHOSPHATE CELLS
At Enix Power Solutions, we have been building custom battery packs over the last 10 years using cells from leading Lithium Iron Phosphate battery manufacturers such as K2 Energy and A123. 
We also offer our own range of reliable LiFePO4 cells under the NX brand:
We also assemble battery packs with K2 Energy 26650 LiFePo4 cells held in stock 
STANDARD LIFEPO4 BATTERY PACKS
We have also designed a full range of standard UN38.3 certified (safe for transport by  air, sea, rail and road) Lithium Iron Phosphate battery packs, held in stock to offer a quick and cost-effective service. Advantages of our standard LiFePO4 battery packs: 
| Part Number | Voltage | Nominal Capacity | Config. | Max. Charge Current | Max. Charge Voltage |
| --- | --- | --- | --- | --- | --- |
| MGL9058 | 3.2V | 1.5Ah | 1S1P | 1.5A | 3.65V |
| MGL9059 | 6.4V | 1.5Ah | 2S1P | 1.5A | 7.3V |
| MGL9060 | 6.4V | 3Ah | 2S2P | 3A | 7.3V |
Part Number
Voltage
Capacity
Cont. Discharge
Current
Max. Discharge
Current (<3 Sec)
Terminals
Dimensions
Weight
AML9142
6V
4.5Ah
5A
8A
F4.8
70x101x47mm
0.35kg
AML9131
12V
7Ah
15A
20A
F6.35
151x65x99mm
1.1kg
AML9133
12V
12Ah
24A
30A
F6.35
151x98x101mm
1.7kg
AML9134
12V
18Ah
36A
50A
M6-M
181x77x167mm
2.7kg
AML9135
12V
33Ah
50A
60A
M6-F
195x130x178mm
4.8kg
AML9156
12V
40Ah
70A
80A
M6-F
195x175x165mm
5.8kg
AML9141
12V
65Ah
80A
100A
M8-F
262x167x212mm
9.2kg
AML9138
12V
100Ah
100A
120A
M6-F
342x173x212mm
13.6kg
AML9154
12V
150Ah
100A
140A
M6-F
483x238x170mm
18.4kg
Our range of hard case UN38.3 Lithium Iron Phosphate batteries are a direct replacement for standard Lead Acid batteries. 
Advantages of LiFePO4 batteries:
LITHIUM IRON PHOSPHATE APPLICATIONS
LITHIUM IRON PHOSPHATE VS LITHIUM-ION
These two chemistries share many advantages and disadvantages however there are significant differences. Lithium Iron Phosphate offers a higher number of charge/discharge cycles, up 1,500 cycles at 100% DOD (depth of discharge) and 2,000 cycles at over 80% capacity.
One of the major advantages of Lithium Iron Phosphate over Lithium-Ion chemistries is its thermal and chemical stability, which greatly improves battery safety. The LiFePO4 cathode is intrinsically safer than the LiCoO2 or the manganese cathode. The Fe-PO bond is stronger than the Co-O bond, so that if misused (short circuit, overheating, etc), the oxygen atoms are much more difficult to remove. As a result, Lithium Iron Phosphate cells are much more difficult to inflame when mishandled (especially during charging). It is commonly accepted that LiFePO4 cells do not disintegrate at high temperatures. However, despite this, there is still a risk of thermal runaway in cases of continuous overcharging or incorrect charging procedures.
LITHIUM IRON PHOSPHATE VS LEAD ACID
LiFePO4 offers a much longer cycle life, approximately four times longer than Lead Acid (1,500 cycles for LiFePO4 vs. 400 cycles for Lead Acid), and a wider range of operating temperatures (-20°C – +60°C). Lithium Iron Phosphate batteries offer a higher energy density and are twice as light as Lead Acid.